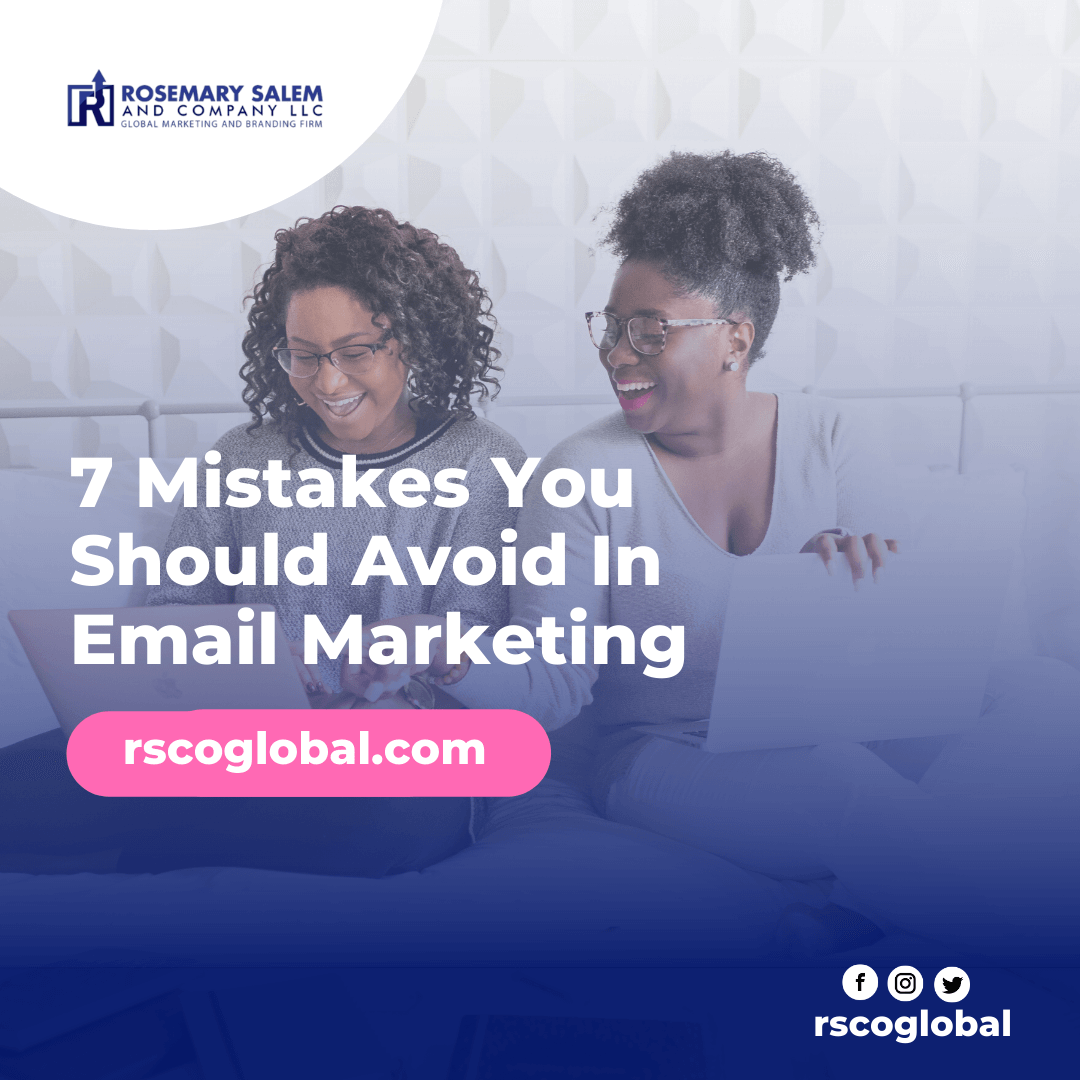 One of the most effective digital marketing strategies is email marketing. It offers many prospects including the opportunity to directly connect with a potential customer and market your product or service. However, poorly composed, designed emails damage reputations, and your email may end up in the recipient's spam folder or they may even unsubscribe from your list.
Here are 7 mistakes you should avoid when sending emails to potential customers, a.k.a your subscribers.
Poor Subject Lines: The subject line of an email should give a clear indication of what the content of the email is about. The subject line is what is first read before the body of the email and it should be enticing. This does not mean it should be overhyped or contain untrue elements. If the subject of an email fails to convince the recipient that the email is worth reading, it will be deleted instantly. Tons of emails are sent daily, only the ones with good headlines make it to the reading stage. The poor ones end up in being trashed and this is not good for your reputation and business.
The subject of an email should be short, sweet, and to the point.
Not Using Graphics: Graphics and imageries have the tendency to improve your email marketing but you have to be strategic not to overuse them. Imageries tend to stick longer in the human brain. If an image captures what message you are passing in your campaign, use it. If it does not, leave it out.
Over Using Graphics: You see, don?t overuse graphics in your email, it could be annoying. Pick one or two graphics that are relevant and you are good. Except it is an album, you don?t need much graphics.
Neglecting Mobile Users: Chances are very high that the email will be read on a smartphone as more people now own cell phones and tend to use it more. Your email format should be compatible with smartphones. Otherwise, they get opened by not read. Always beta test email campaigns across a variety of devices to address quality issues and load time complications.
Not Being Professional: Subscribers want a platform that can be trusted. Keeping everything 100% would greatly influence how you are perceived and might retain subscribers or chase them away. An email full of spelling and grammatical errors, improperly arranged and filled with curse words is brilliantly? unprofessional and maybe putting your marketing strength at risk. Keep an email professional by proofreading, avoiding stock images, using respectful and professional language.
Forgetting Call-To-Action (CTA): Your email content is brilliant, well-thought-out, and excellently written, but it will be useless without any call to action. What do you want your readers to do next, where can they get the product or service you have talked about and how should they go about it are some of the questions a good CTA should answer.
Effective calls to action focus on the customer, not the product.
Being Inconsistent: You have mastered email marketing and have been doing it for a while, but you go off for a long time and come back only when you have a new product to sell. You are wrong. And you need to stop. Even when you have nothing to sell, reach out to your audience, stay in touch, check on them. This way, you can connect with them on a personal level.
Be mindful, however, of not over mailing them. Keep it simple and professional. Respect their private space. If you find it unnecessary, then don?t do it.
Email marketing offers a cheap way to reach prospective customers, but poorly written campaigns would not gain potential customers? loyalty and this can?t yield any positive result.
Successful campaigns email marketing contents are customer focused and offer real solutions to everyday problems without promising Heaven on Earth.
By avoiding common mistakes, you can target your audience far more effectively.